Old Towne Hotel
The Best of the West!
Woodside Old Towne Hotel in Mauston is only a few yards away from the entrance to our all-turf Woodside Mauston Sports Complex. Old Towne is the perfect western themed accommodation for sports teams and fans looking to cheer on their team!
Old Towne offers the best of both worlds. The design is that of an old western village, yet the guest rooms feature the most modern of accommodations found in the finest hotels today. If you have not discovered Old Towne Hotel yet, you owe it to your friends, family and team to explore everything the hotel has to offer. You won't find a better accommodation or value than booking, staying and playing at Old Towne Hotel and the Woodside Sports Complex.
COVID -19
Our hotel remains open, our breakfast area is Grab N Go. We are not offering stay over service at this time. We are and we continue abiding by all local, state, and federal guidelines and will maintain the stringent precautionary measures we'd implemented to address coronavirus concerns and to help ensure the health, safety and well-being of everyone visiting our properties. These measures include, but are not limited to:
Existing housekeeping procedures for cleanliness, hand-washing and disinfection that meet and exceed industry best practices and standards – including hospital-grade disinfectant for an expanded period of time
Mandated use of gloves by common-area cleaning team members
Continued frequent deep cleaning of common areas, handles, faucets, trash-receptacle touchpoints, buttons, keypads, luggage carts, counters, and employee-housing
Additional hand sanitizing station has been placed in the lobby
An increased focus has been placed in any area where events or gathering areas are held
According to the World Health Organization, it is not known how long the virus that causes COVID-19 survives on surfaces. However, it seems to behave like other viruses. Studies suggest that viruses (including preliminary information on the COVID-19 virus) may persist on surfaces for a few hours or up to several days. This may vary under different conditions such as surface, temperature or humidity of the environment. Knowing this information, Woodside has made the commitment to cleaning all high-touch surfaces several times throughout the day
GUEST ROOMS & SUITES
Existing housekeeping procedures used throughout the resort extended to all rooms and suites, including the use of hospital-grade disinfectant
We have removed any unnecessary items within the rooms
The housekeeping teams have mandated use of gloves
Deep clean of high-touch areas such as handles, faucets, and remotes
In the rooms, surfaces are disinfected between guests
As more information becomes available, we will continue to make adjustments to support the safety and well-being of guests and associates. From our ownership to all of our team members, we take pride in the role we are playing to ensure the wellness of those we serve. We hope that you can rely on us as we are looking forward to serving you and your family soon.
Reschedule your stay without penalty.
We – along with the rest of the world – understand you may be feeling hesitant to make travel plans right now, and we want our guests to have comfort in their upcoming Woodside Dells Hotel or Old Towne Hotel stay. We welcome the opportunity to reschedule your stay for further down the road when you feel more comfortable visiting (though rates and availability may vary). It would be our pleasure to work with you to find dates with rates that work for you!
If you're certain that you want to cancel more than 72 hours prior to your stay, please reach out to our reservations desk at FD@WoodsideOldTowne.com or call 608-847-4275.
Once through these uncertain times, we are looking forward to welcoming you as our guest.
---
TOURNAMENT BOOKINGS
Looking to book for a tournament or sports event? Click below to be taken to Event Connect to register for your event and to book your stay:
GENERAL BOOKINGS
For all other bookings, call the number below to check availability and room types for your stay:
About | Room Types | Location | Photo Gallery
---
ABOUT
The hotel is also just a stone's throw away from Woodside Ranch where you can book team or individual trail rides, pony rides and wagon rides. The Ranch also has a kid friendly bar known as the Trading Post which features arcade games, ping pong, pool tables, darts, pizza and appetizers all served along with your favorite beverage. Enjoy the petting zoo at the Ranch that is available to Old Towne guests in the summer. You can call Woodside Ranch for riding information and Trading Post hours of operation at (608) 847-4275 . The ranch can also arrange a cookout or bonfire and s'mores with advanced notice. Old Towne guest can enjoy the Ranch experience included with your stay.
Located in our lobby/administration building we service continental breakfast available 6:30 am – 9:30 am. We also have a coin washer and dryer located in the lobby building. Bathrooms are located in the lobby for guests.
Wristbands will no longer be included with your hotel stay after August 26, 2022
ROOM TYPES
Woodside Old Towne was built for families and sports teams. Old Towne has 84 spacious guest rooms designed with guest comfort and convenience in mind. The hotel features 5 individual buildings all with similar configurations. The two room types available are double queen rooms and full-kitchen suites. All rooms are interior entrance but also feature patio doors for outside access to the western courtyard.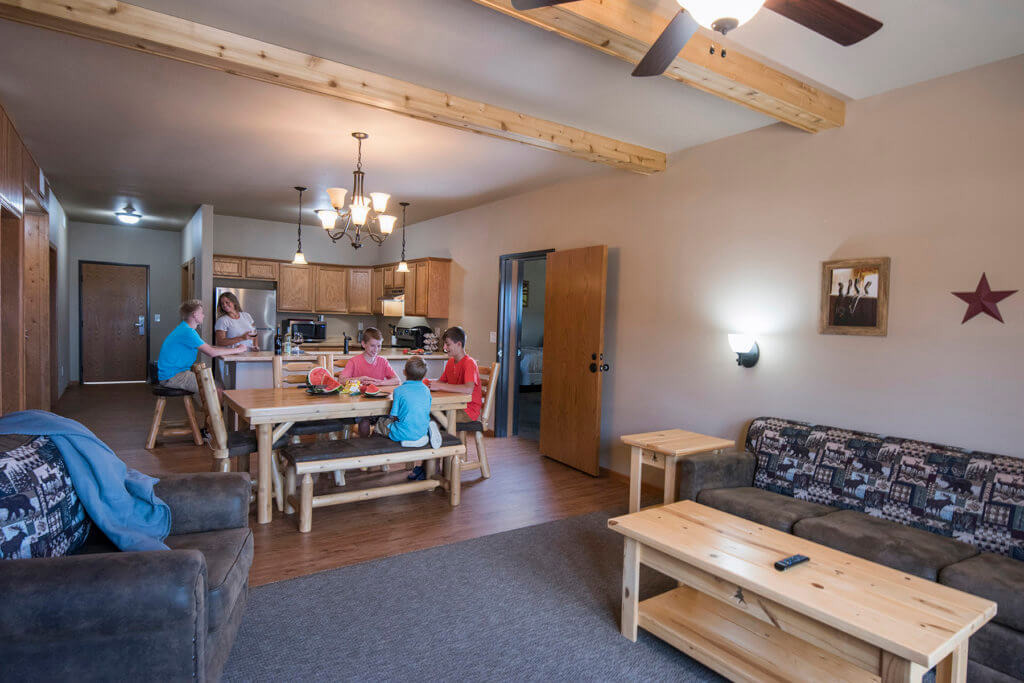 Full-Kitchen
Accommodates up to 8 guests
Two separate bedrooms, one with one king bed, one with two queen beds
40″ flat screen television in each bedroom
Two full bathrooms, hair dryers in each bathroom
Fully equipped kitchen including dishwasher & Keurig coffee maker
Dining table and chairs
Living room with one queen sofa sleeper, 50" flat screen television and fireplace
RFID latest technology and safety door lock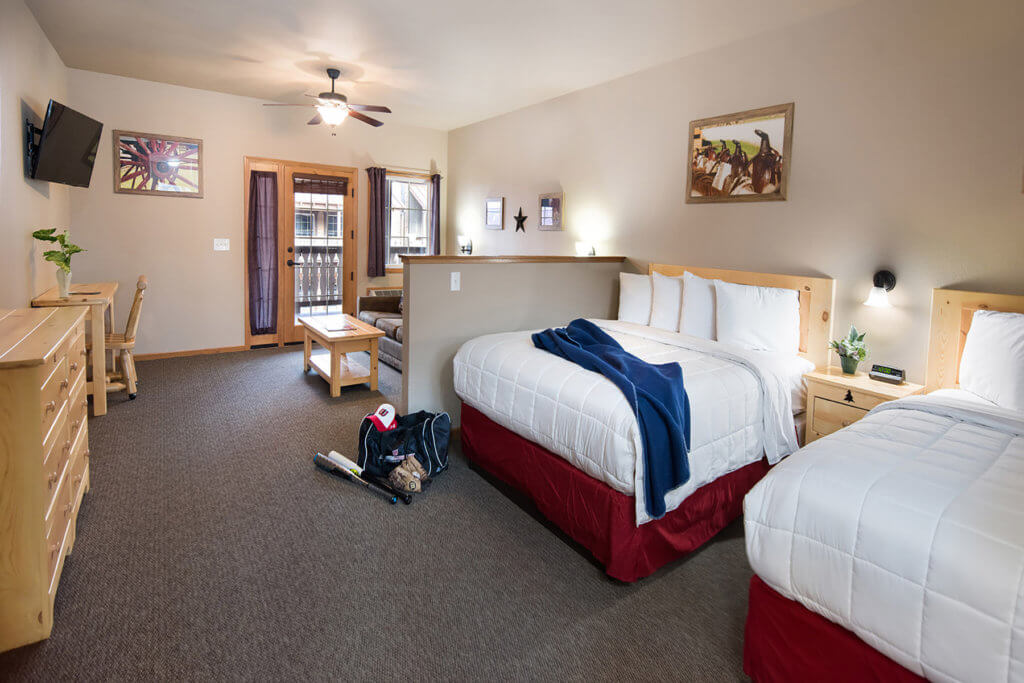 Double Queen
Accommodates up to 6 guests
Two queen beds, one queen sofa sleeper
Two 40″ flat screen televisions
Microwave / mini refrigerator
2 cup individual brew coffee maker
Bathroom, hair dryer included
RFID latest technology and safety door lock
Handicap accessible rooms available upon request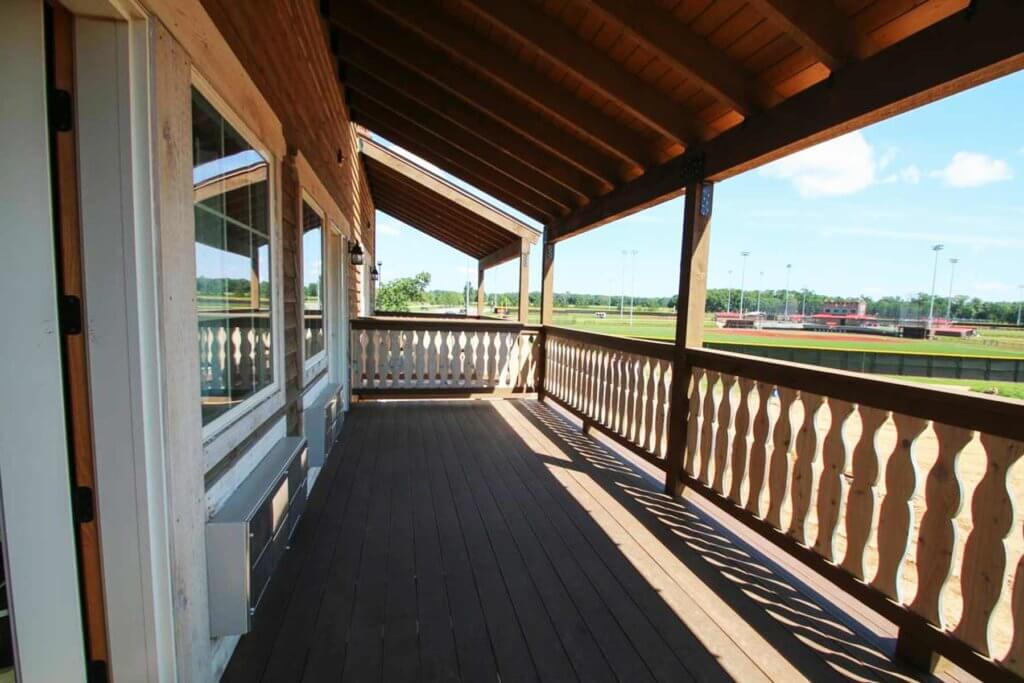 King Rooms
Accommodates up to 4 guests
One king bed, one queen sofa sleeper
Two 40″ flat screen televisions
Microwave / mini refrigerator
Bathroom, hair dryer included
RFID latest technology and safety door lock
LOCATION
Woodside Old Towne Hotel
N4644 21st Ave
Mauston, WI 53948
PHOTO GALLERY