Woodside Dells Hotel
A TASTE OF THE OLD WEST WITH MODERN AMENITIES
Woodside Dells Hotel and Suites offers over 50 guest rooms in different configurations that allow for individuals and families to best meet their travel needs. It is conveniently located at the east end of Broadway Street which is the main thoroughfare of Wisconsin Dells. The Woodside Dells Hotel is only a 10 minute walk from downtown Dells with dining, shopping, and much more. Wisconsin Dells is "The Waterpark Capital of the World" and features a variety of w­aterparks, attractions and family friendly activities that make it a great overnight or vacation destination for everyone. Timbavati Wildlife Park passes included with all reservations. Single use day pass can used multiple times within the same day.
COVID -19
Woodside Dells Hotel and Suites
Our hotels remain open, our pool and breakfast is Grab N Go. We are not offering stay over service at this time. We are and we continue abiding by all local, state, and federal guidelines and will maintain the stringent precautionary measures we'd implemented to address coronavirus concerns and to help ensure the health, safety and well-being of everyone visiting our properties. These measures include, but are not limited to:
Existing housekeeping procedures for cleanliness, hand-washing and disinfection that meet and exceed industry best practices and standards – including hospital-grade disinfectant for an expanded period of time
Mandated use of gloves by common-area cleaning team members
Continued frequent deep cleaning of common areas, handles, faucets, trash-receptacle touchpoints, buttons, keypads, luggage carts, counters, and employee-housing
Additional hand sanitizing station has been placed in the lobby
An increased focus has been placed in any area where events or gathering areas are held
According to the World Health Organization, it is not known how long the virus that causes COVID-19 survives on surfaces. However, it seems to behave like other viruses. Studies suggest that viruses (including preliminary information on the COVID-19 virus) may persist on surfaces for a few hours or up to several days. This may vary under different conditions such as surface, temperature or humidity of the environment. Knowing this information, Woodside has made the commitment to cleaning all high-touch surfaces several times throughout the day
GUEST ROOMS & SUITES
Existing housekeeping procedures used throughout the resort extended to all rooms and suites, including the use of hospital-grade disinfectant
We have removed any unnecessary items within the rooms
The housekeeping teams have mandated use of gloves
Deep clean of high-touch areas such as handles, faucets, and remotes
In the rooms, surfaces are disinfected between guests
POOLS
As the CDC suggests as of March 13, "There is no evidence that COVID-19 can be spread to humans through the use of pools and hot tubs. Proper operation, maintenance, and disinfection (e.g., with chlorine and bromine) of pools and hot tubs should remove or inactivate the virus that causes COVID-19"
Currently, The Department of Health has not issued any additional recommendations or guidelines other than the standard hygiene and cleanliness protocol currently implemented within our pool areas
The chemicals and safety protocol for all pools meet and exceed industry standards
Common areas are cleaned and disinfected utilizing the same hospital-grade disinfectant used throughout the property
Additional hand sanitizing stations have been placed throughout the Pool area
Chemical readings are performed by our Certified Pool Operators
As more information becomes available, we will continue to make adjustments to support the safety and well-being of guests and associates. From our ownership to all of our team members, we take pride in the role we are playing to ensure the wellness of those we serve. We hope that you can rely on us as we are looking forward to serving you and your family soon.
Reschedule your stay without penalty.
We – along with the rest of the world – understand you may be feeling hesitant to make travel plans right now, and we want our guests to have comfort in their upcoming Woodside Dells Hotel or Old Towne Hotel stay. We welcome the opportunity to reschedule your stay for further down the road when you feel more comfortable visiting (though rates and availability may vary). It would be our pleasure to work with you to find dates with rates that work for you!
If you're certain that you want to cancel more than 72 hours prior to your stay, please reach out to our reservations desk at FD@WoodsideDells.com or call 608-678-3380.
Once through these uncertain times, we are looking forward to welcoming you as our guest.
---
TOURNAMENT BOOKINGS
Looking to book for a tournament or sports event? Click below to be taken to Event Connect to book your stay:
GENERAL BOOKINGS
For all other bookings, click below to check availability and room types for your stay:
About | Features | Specials | Room Types | Location | Photo Gallery
---
ABOUT
There are two Woodside sports facilities located only 5 minutes from the Woodside Dells Hotel. The first is our Woodside Sports Complex. This facility is a world class sports park featuring all turf baseball and rectangle fields and hosts thousands of players and spectators each year. Events include everything from baseball, softball, soccer, rugby, lacrosse and football. The second facility is the Woodside Wisconsin Dells Center which is a 90,000 square foot dome that keeps the cold weather outside and the hot competition of sports on the inside. In addition, to a variety of different sporting events, this multipurpose facility can also host social events, conferences, tradeshows, concerts, and much more.
The Woodside Dells Hotel & Suites is a valuable part of these sporting events, allowing teams to stay in affordable lodging close to all the activities and conveniently located with easy access to downtown Wisconsin Dells. The Woodside Dells Hotel features the following amenities for our guests:
Largest indoor pool in downtown Wisconsin Dells
Outdoor pool during season (May-September)
Dry Sauna
Outdoor BBQ grills
Grab N Go Breakfast; cereal, yogurt, muffins. (6:30am-9:30am)
Complimentary Wi-Fi
FEATURES
Pools, Sauna & Breakfast
The hotel features two (2) swimming pools. The indoor pool is the largest indoor pool in the downtown Wisconsin Dells area. It is located near the front desk lobby and has ample seating for both families and sports teams. In the pool area there is a sauna and restrooms. The hotel also features an arcade in the pool area. Our outdoor pool is located at the back of the property and is open May – September. This pool is the perfect spot to relax on those sunny days enjoying the company of family and friends.
To qualify for the 2 FREE admission wristbands to Woodside's Outdoor Sports Complexes: You must have reserved your room through our tournament Lodging platform, EventConnect. The person receiving the wristband must go to a Woodside Hotel, prior to going to the Sports Complex. The person picking up the wristbands will need to sign the hotel registration card and have the credit card authorize your reservations. You will then be given your 2 FREE admission wristbands.
The hotels will be staffed on tournament days starting at 7AM so that you can do an early check-in and get your admission wristbands. We cannot guarantee that your room will be ready, but you will be able to get your wristbands at pre check-in. Please note: 0-5 years of age are no charge, coaches and players are also no charge for park admission.
THIS IS A HOTEL PROMOTION ONLY! IF YOU GO TO THE GAMES AND PURCHASE A WRISTBAND, WE WILL NOT BE ABLE TO REFUND THE COST OF ADMISSION.
SPECIALS
Specials below are available for non-sport tournament guests:
Military & Senior Discount
Our military and senior discount is available with proof at check-in.
Happy Birthday
10% Off your entire stay if your birthday falls during your stay
Happy Anniversary
Show your marriage & driver license to receive anniversary year % off
Veterans Special
Nov 5 -14, 2021
25% night off with documented proof of service in the Armed Forces
Thanksgiving Special
Nov 19 – 28, 2021
Stay 2 consecutive nights, get a 3rd night for 50% off
Holiday Special
Dec 17, 2022 – Jan 9, 2022
Stay 3+ consecutive nights receive 25% off each night
School's Out
June 10 – 20, 2021
4th night FREE
Independence Day
July 1 – 8, 2021
Stay 2 consecutive nights, get a 3rd night for $40 off
Be My Valentine
Feb 11 – 14, 2021
Stay 3 consecutive nights receive 14% off each night
ROOM TYPES
Woodside Dells features 50 guest rooms with different entrance options. Located in the pool building we offer 23 rooms and have 27 rooms on the motel side. Of these rooms there are 4 different room types. We offer a number of queen rooms with two beds, king rooms, two-room family suites and junior suites. In addition, to these rooms, the hotel also features an executive condo which can sleep up to 20 guests.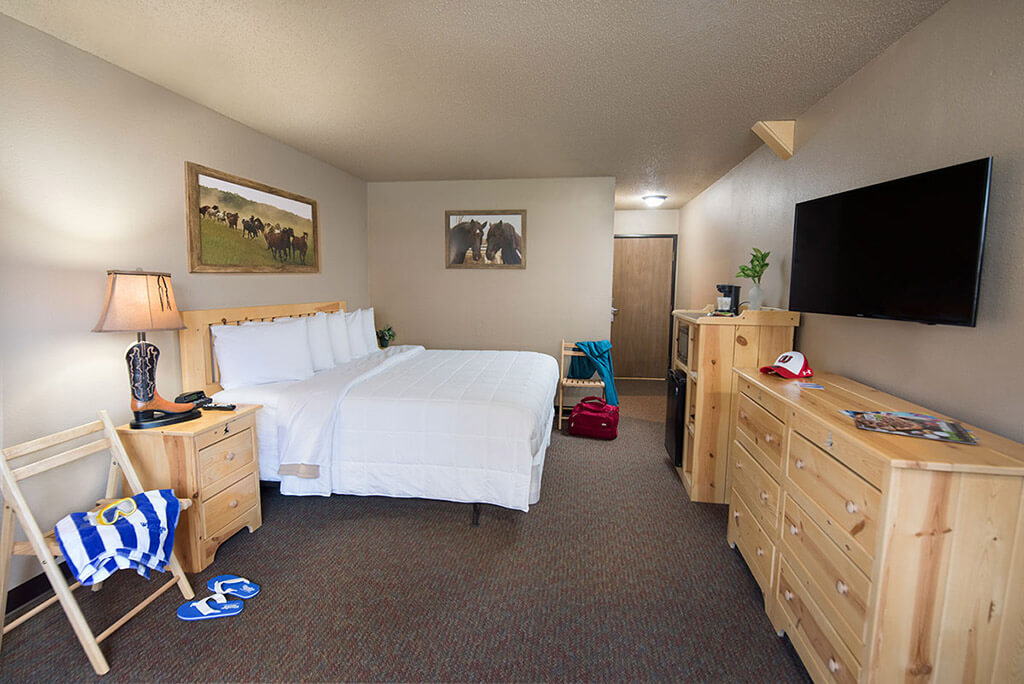 King Room
One king bed
Microwave / Mini Refrigerator
2 cup individual brew coffee maker
Hair dryers in every room
RFID latest technology and safety door locks
Handicap Accessible rooms available upon request include:
Shower bench seat built in
Open Bed Frames in case a lift is needed
Handicap approved toilets
Sliding shower wand for easy use
Grab rails and safety rails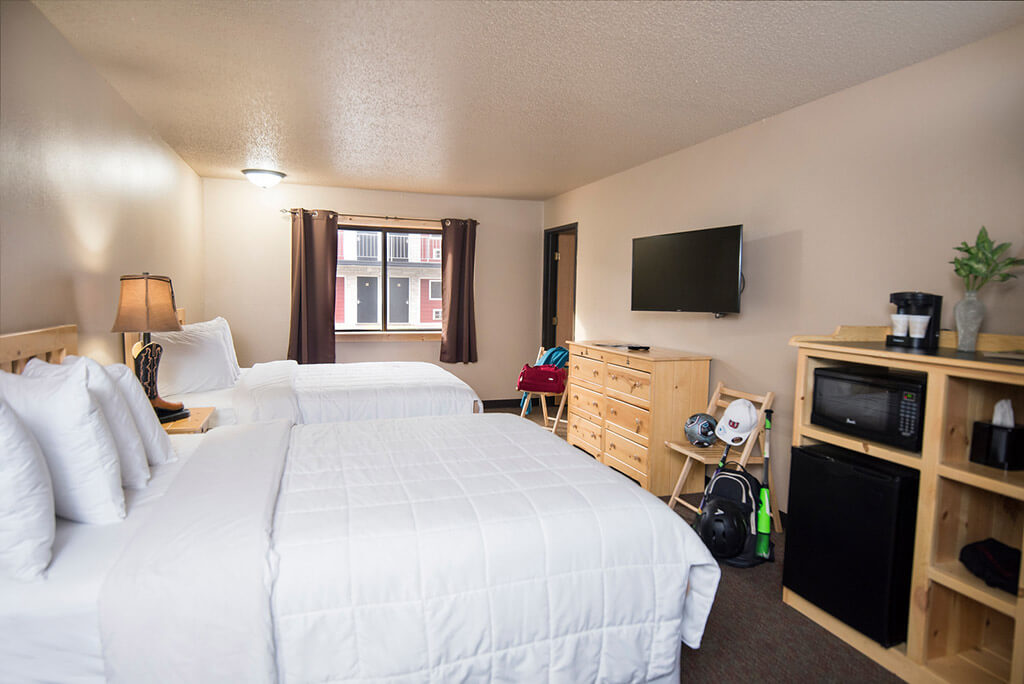 Double Queen
Two queen beds (sleeps 4)
Microwave / Mini Refrigerator
2 cup individual brew coffee maker
Hair dryers in every room
RFID latest technology and safety door locks
Handicap Accessible rooms available upon request include:
Shower bench seat built in
Open Bed Frames in case a lift is needed
Handicap approved toilets
Sliding shower wand for easy use
Grab rails and safety rails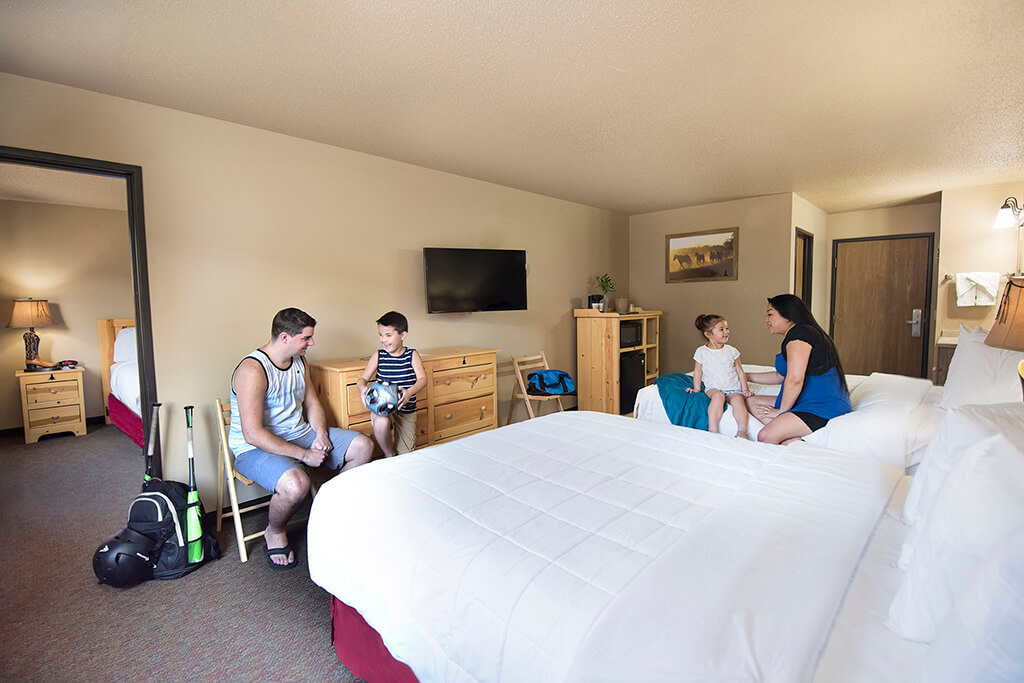 Two-Room Family Suite
Two queen beds, separate room with one queen bed (sleeps 6)
Microwave / Mini Refrigerator
2 cup individual brew coffee maker
Hair dryers in every room
RFID latest technology and safety door locks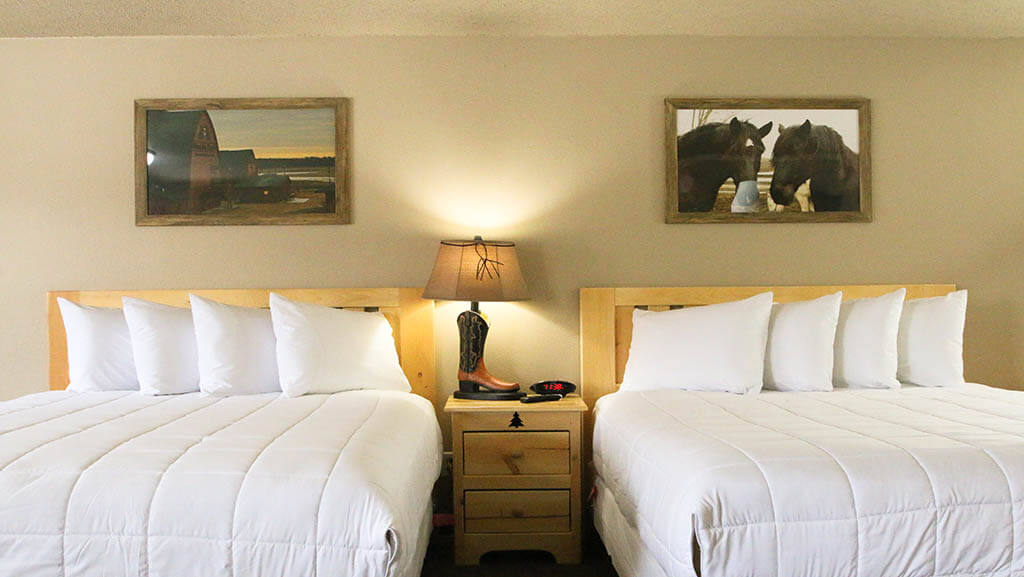 Junior Suite
Two queen beds
One queen sofa sleeper
Wet bar / Microwave / Full refrigerator
2 cup individual brew coffee maker
Hair dryers in every room
RFID latest technology and safety door locks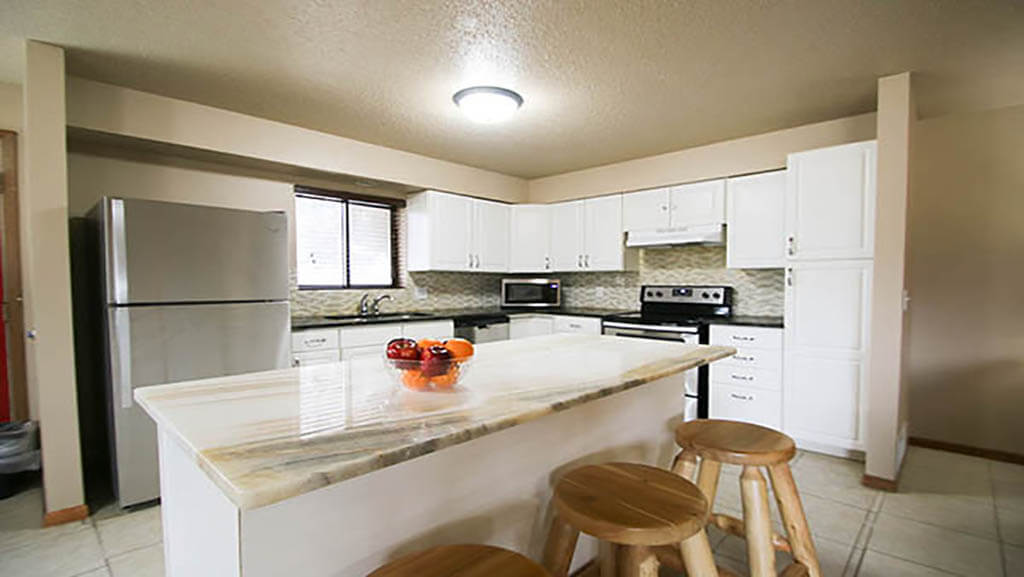 Executive Condo
Accommodates up to 20 guests
Three bedrooms each with two queen beds
Three full bathrooms
Fully equipped kitchen including dishwasher
Keurig coffee maker
Dining table and chairs
Living room with two queen sofa sleepers
Additional loft with two queen sofa sleepers
Hair dryers in each bathroom
RFID latest technology and safety door lock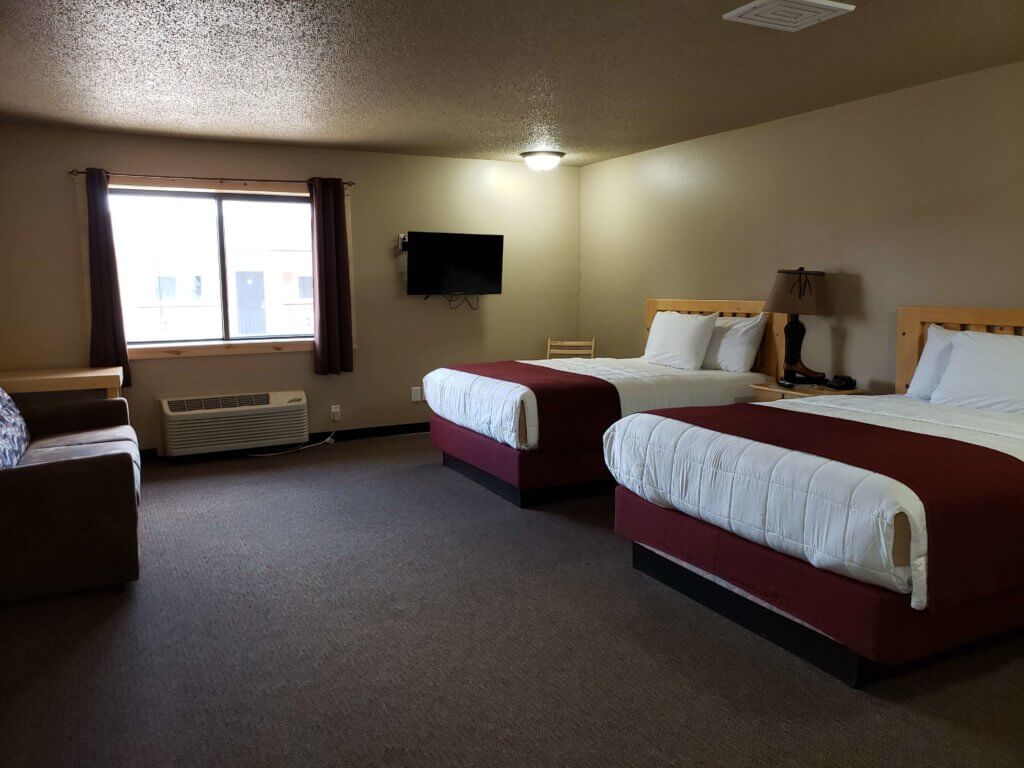 2 Queen Extra Large (2nd Floor)
Two queen beds (sleeps 4)
Queen Sleeper Sofa
Microwave / Mini Refrigerator
2 cup individual brew coffee maker
Hair dryers in every room
RFID latest technology and safety door locks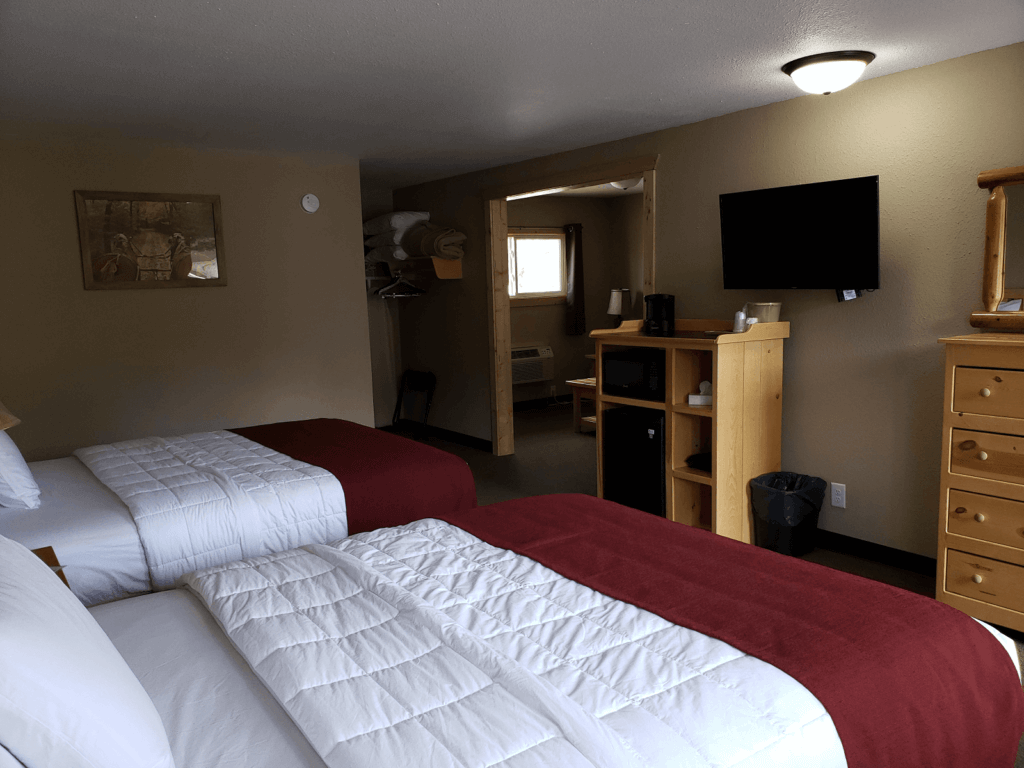 Country Suite (2nd Floor)
Two queen beds (sleeps 4)
Queen Sleeper Sofa in separate sitting area
TV in each area
Microwave / Mini Refrigerator
2 cup individual brew coffee maker
Hair dryers in every room
RFID latest technology and safety door locks
LOCATION
Woodside Dells Hotel
1114 Broadway
Wisconsin Dells, WI 53965
PHOTO GALLERY