Woodside Dells Hotel
A TASTE OF THE OLD WEST WITH MODERN AMENITIES
Woodside Dells Hotel and Suites offers over 50 guest rooms in different configurations that allow for individuals and families to best meet their travel needs. It is conveniently located at the east end of Broadway Street which is the main thoroughfare of Wisconsin Dells. The Woodside Dells Hotel is only a 10 minute walk from downtown Dells with dining, shopping, and much more. Wisconsin Dells is "The Waterpark Capital of the World" and features a variety of w­aterparks, attractions and family friendly activities that make it a great overnight or vacation destination for everyone. Complimentary Horse Trail or Wagon Ride with each room at Woodside Ranch.
---
TOURNAMENT BOOKINGS
Looking to book for a tournament or sports event? Click below to be taken to Event Connect to book your stay:
GENERAL BOOKINGS
For all other bookings, click below to check availability and room types for your stay:
Contact our Front Desk 608-678-3380
Email Front Desk at FD@WoodsideDells.com
---
FEATURES
Pools & Sauna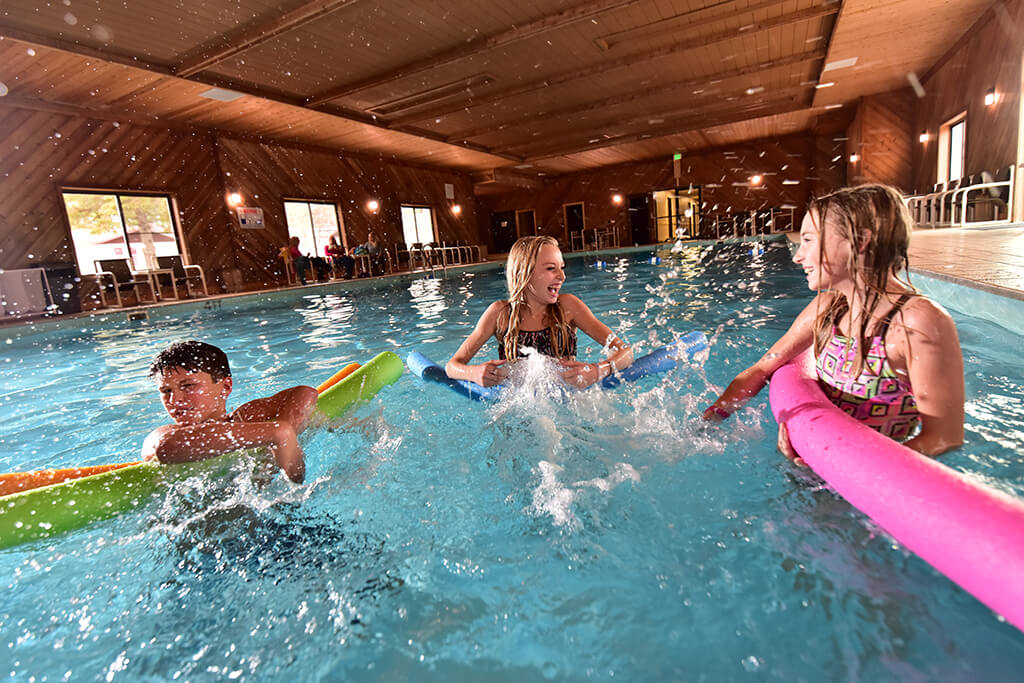 The hotel features two (2) swimming pools. The indoor pool is the largest indoor pool in the downtown Wisconsin Dells area. It is located near the front desk lobby and has ample seating for both families and sports teams. In the pool area there is a sauna and restrooms. The hotel also features an arcade in the pool area. Our outdoor pool is located at the back of the property and is open May – September. This pool is the perfect spot to relax on those sunny days enjoying the company of family and friends.
SPECIALS
Specials below are available for non-sport tournament guests:
Military & Senior Discount
Our military and senior discount is available with proof at check-in.
Happy Birthday
10% Off your entire stay if your birthday falls during your stay
Happy Anniversary
Show your marriage & driver license to receive anniversary year % off
ROOM TYPES
Woodside Dells features 50 guest rooms with different entrance options. Located in the pool building we offer 23 rooms and have 27 rooms on the motel side. Of these rooms there are 4 different room types. We offer a number of queen rooms with two beds, king rooms, two-room family suites and junior suites. In addition, to these rooms, the hotel also features an executive condo which can sleep up to 20 guests.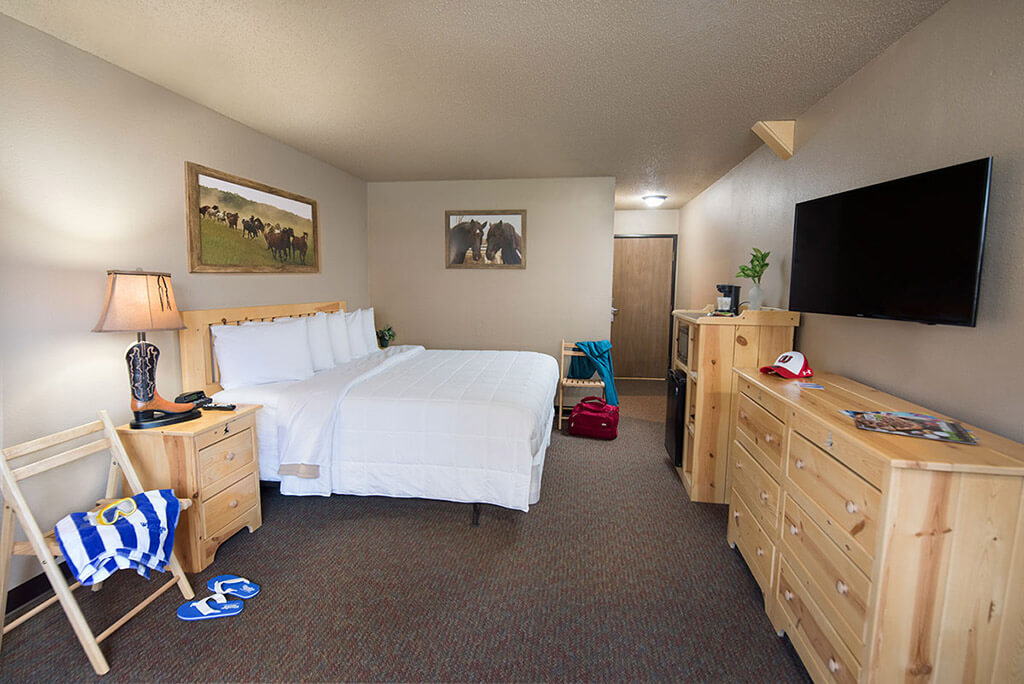 King Room
One king bed
Microwave / Mini Refrigerator
2 cup individual brew coffee maker
Hair dryers in every room
RFID latest technology and safety door locks
Handicap Accessible rooms available upon request include:
Shower bench seat built in
Open Bed Frames in case a lift is needed
Handicap approved toilets
Sliding shower wand for easy use
Grab rails and safety rails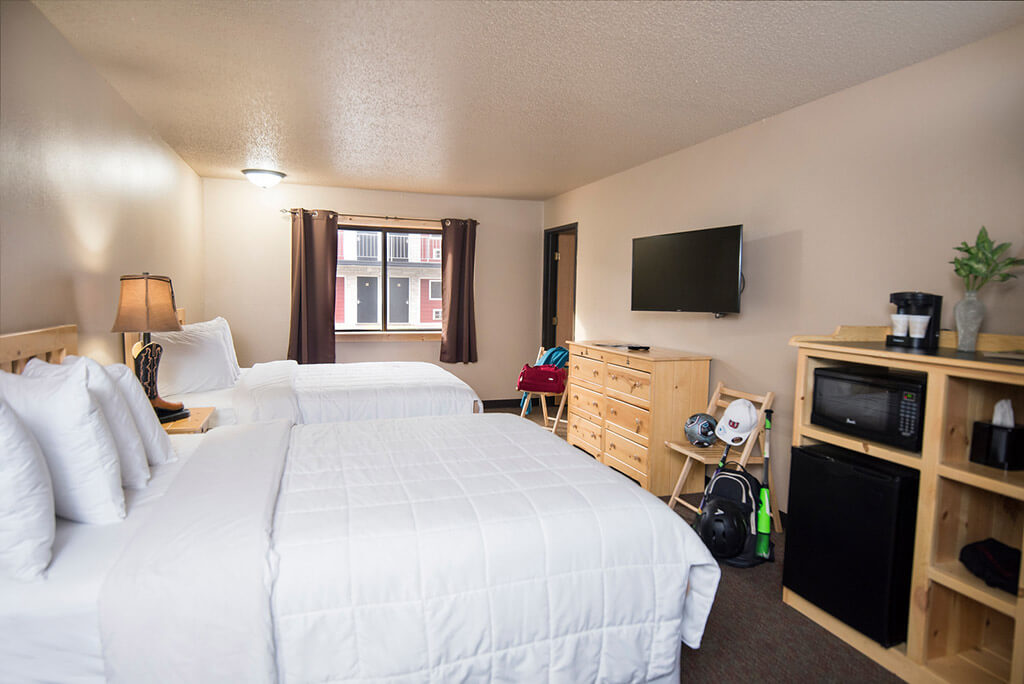 Double Queen
Two queen beds (sleeps 4)
Microwave / Mini Refrigerator
2 cup individual brew coffee maker
Hair dryers in every room
RFID latest technology and safety door locks
Handicap Accessible rooms available upon request include:
Shower bench seat built in
Open Bed Frames in case a lift is needed
Handicap approved toilets
Sliding shower wand for easy use
Grab rails and safety rails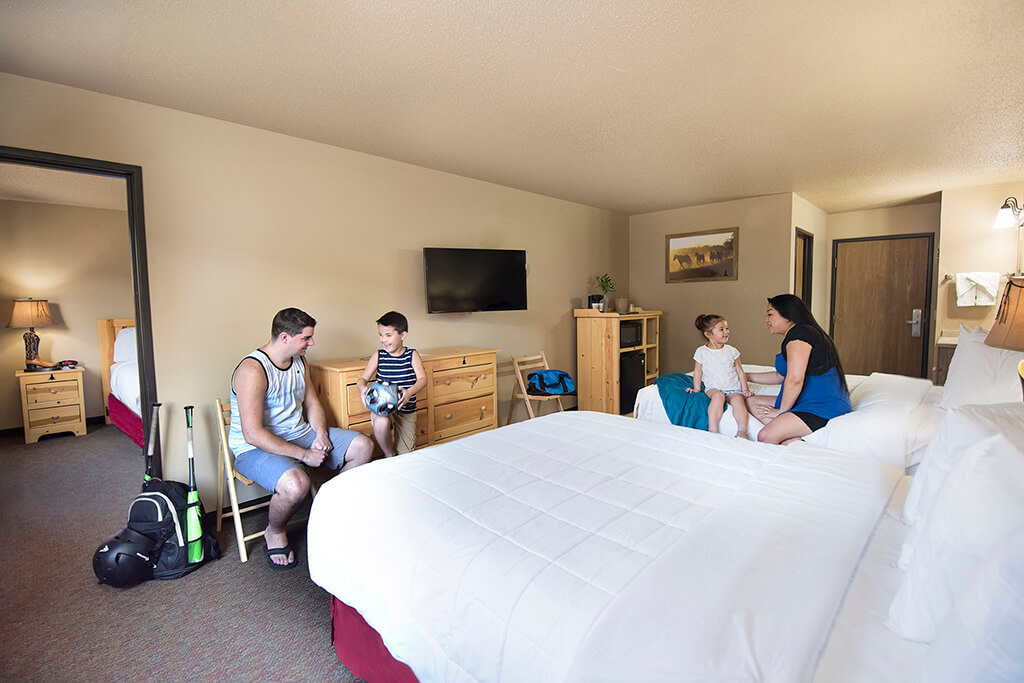 Two-Room Family Suite
Two queen beds, separate room with one queen bed (sleeps 6)
Microwave / Mini Refrigerator
2 cup individual brew coffee maker
Hair dryers in every room
RFID latest technology and safety door locks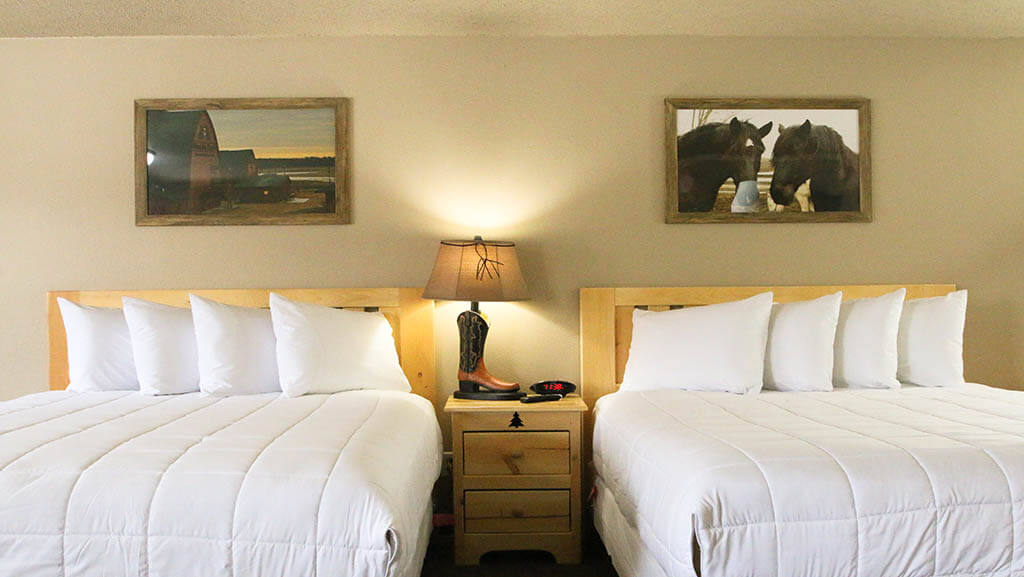 Junior Suite
Two queen beds
One queen sofa sleeper
Wet bar / Microwave / Full refrigerator
2 cup individual brew coffee maker
Hair dryers in every room
RFID latest technology and safety door locks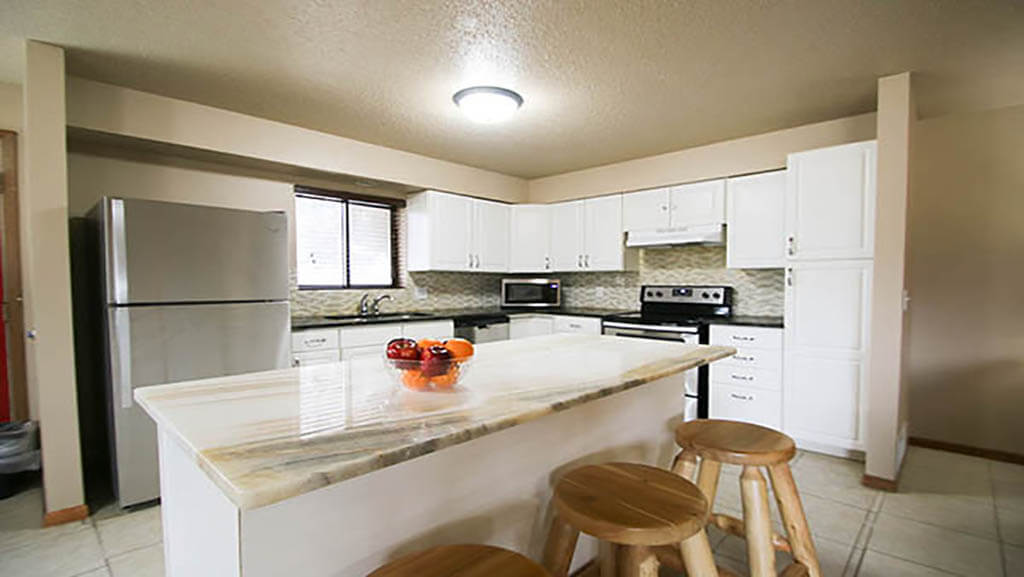 Executive Condo
Accommodates up to 20 guests
Three bedrooms each with two queen beds
Three full bathrooms
Fully equipped kitchen including dishwasher
Keurig coffee maker
Dining table and chairs
Living room with two queen sofa sleepers
Additional loft with two queen sofa sleepers
Hair dryers in each bathroom
RFID latest technology and safety door lock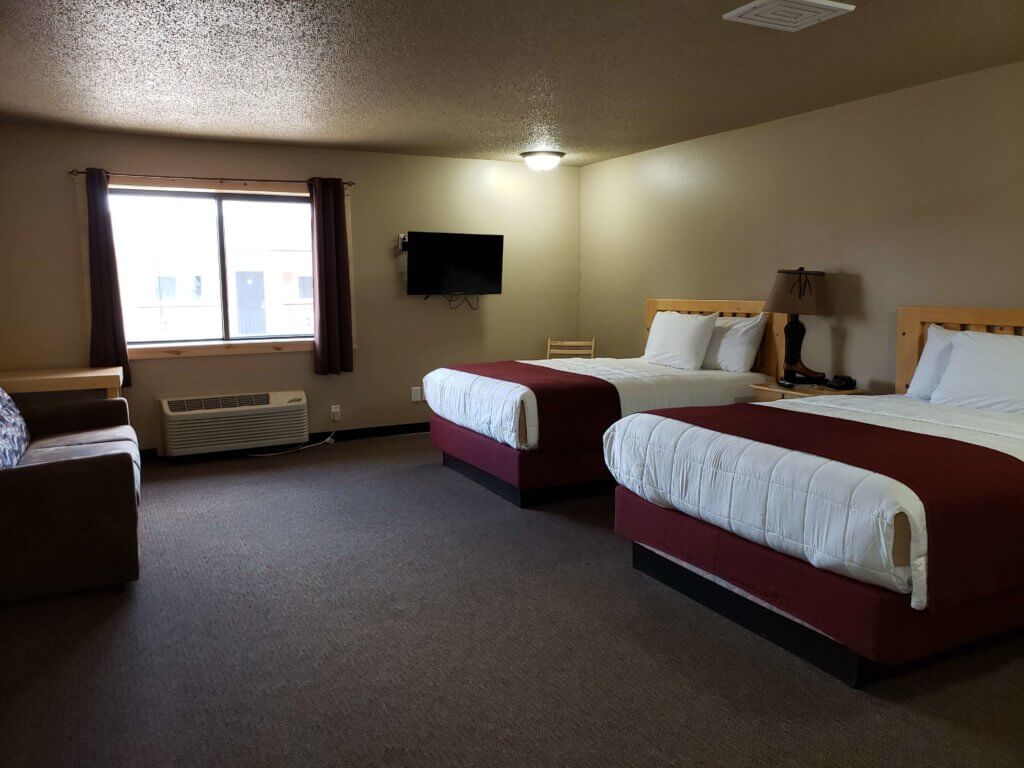 2 Queen Extra Large (2nd Floor)
Two queen beds (sleeps 4)
Queen Sleeper Sofa
Microwave / Mini Refrigerator
2 cup individual brew coffee maker
Hair dryers in every room
RFID latest technology and safety door locks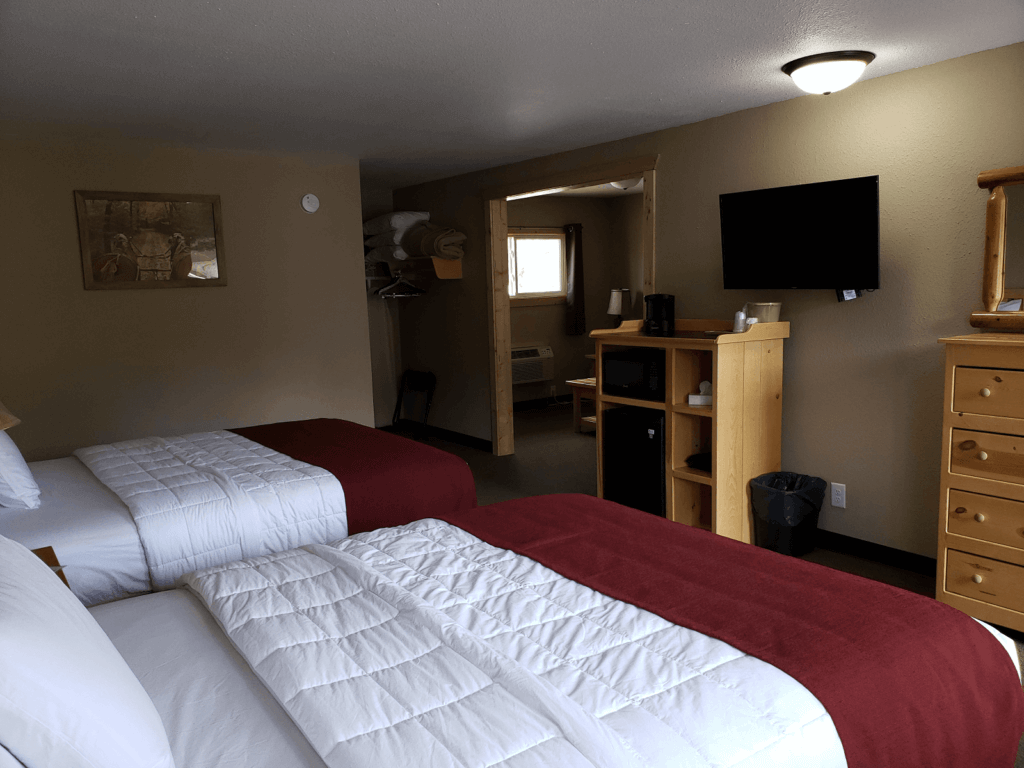 Country Suite (2nd Floor)
Two queen beds (sleeps 4)
Queen Sleeper Sofa in separate sitting area
TV in each area
Microwave / Mini Refrigerator
2 cup individual brew coffee maker
Hair dryers in every room
RFID latest technology and safety door locks
LOCATION
Woodside Dells Hotel
1114 Broadway
Wisconsin Dells, WI 53965
PHOTO GALLERY